USEFUL INFORMATION
TYPES AND DESCRIPTION OF MBW MATERIALS
GUIDLINE OF MATERIAL CARE
---
CE PROTECTOR
MBW protectors are CE approved according to 1621-1 and 1621-2 standards.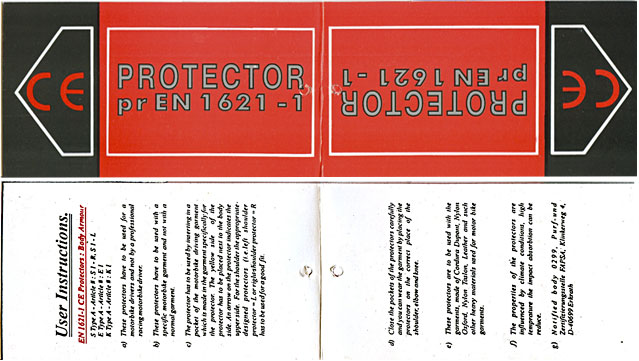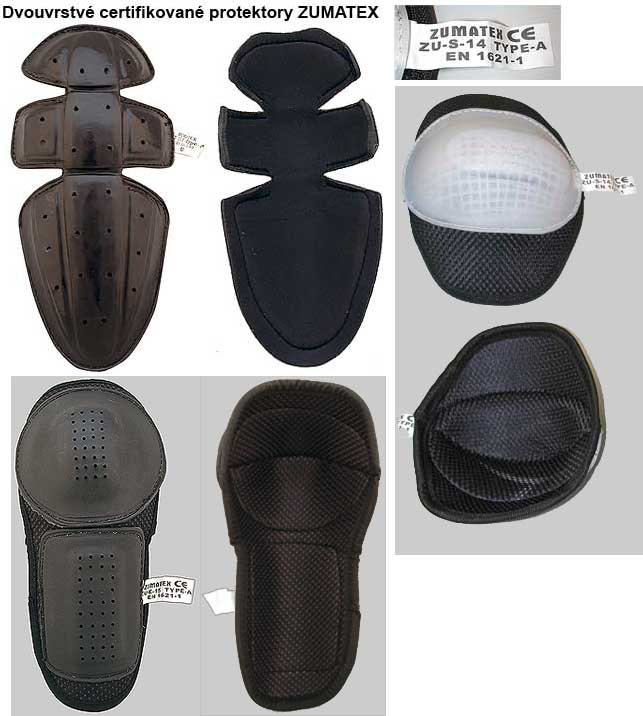 ---
SCHOELLER KEPROTEC
SCHOELLER KEPROTEC® is the best known for its visionary spirit and high-tech approach, which has led to revolutionary innovations over the last 20 years. These include the development of highly functional and high quality stretch fabrics, the incorporation of hardwearing kevlar fibers into protective fabrics or the creation of fabrics with inherent reflective properties.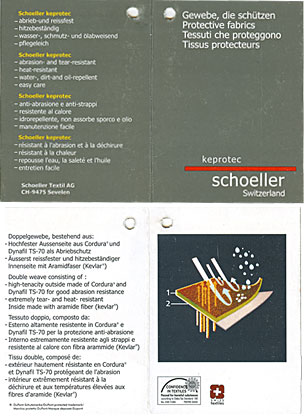 ---
3M SCOTCHLITE™
3M™ Scotchlite™ Reflective Material helps you to be seen at dawn, dusk, or night in all weather conditions. Versatility, performance and fashion come together in Scotchlite reflective material. Designers can easily incorporate it into all kinds of footwear, garments, and accessories, from safety vests to high performance activewear. The results: attractive reflective clothing that helps make people more visible.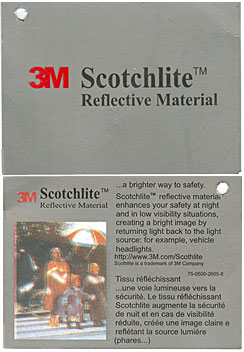 ---
LEATHER
Leather is durable, flexible and best fiber strength material. It is favored by the motorcyclists for its high abrasion resistance. Cowhide, kangaroo and goatskin are the most common types of hides and skins used for MBW garments.
There are three main processes transforming hide and skin into leather – preparatory stages, tanning and crusting. The preparatory stages of the rawhide may include: preservation, soaking, unhairing, deliming, bleaching etc. In the next tanning process the hide transforms to the leather and predetermines the leather qualities such as thickness, smoothness, colour, softness, elasticity and many more. During the final crusting process the leather is thinned, retanned and lubricated. This final operation may include: oiling, brushing, padding, impregnation, spraying, polishing, embossing and ironing. All types and grades of leather follow a set guideline of care to ensure a longer life.
---
MAXTEX
Flexible, light fiber appreciated for its abrasion resistance. Maxtex is partially wind and waterproof.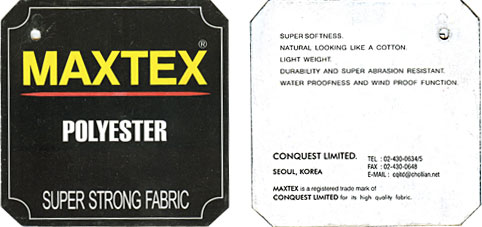 ---
AIRDURA
Airdura textile is 20% lighter than polyamid 6 and polyamid 66 and 52% lighter than polyester.
Airdura is highly durable material with excellent therminsulating qualities. It is partially wind and waterproof.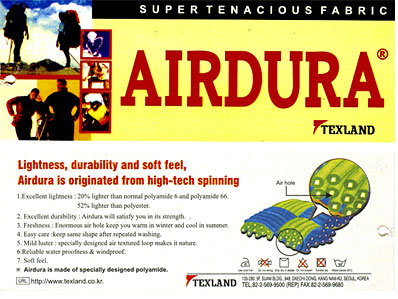 ---
REISSA
Brethable wind and waterproof membrane. It protects against rain, snow and wind (till 160km/h) hod). No change of functions, shape and feeling (-60 °C to 85 ºC).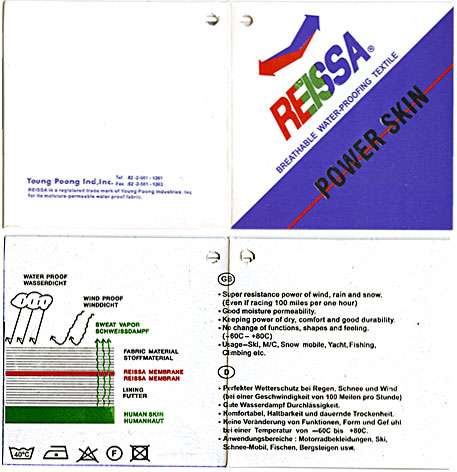 ---
LEATHER CARE
There are various types and grades of leathers, each serving a different purpose. Some require a bit more maintenance than others, but all follow a set guideline of care to ensure a longer life.
Cleaning
To clean a leather item, first choose a cleaner that will help preserve the natural lubricating oils instead of stripping them. It is meant to be used as a cleaner and a protector from moisture. The cleaner of your choice should not leave any greasy residue behind. Residue makes leather susceptible to bacteria and can break down the stitching of your item. Before applying anything to your leather item, be certain to test it out for effect and possible color distortion on an area that isn"t visible to the eye. Once you"ve ascertained whether the leather care product is acceptable to use, apply it to your item. With a slightly dampened cloth, remove the cleaning product. For areas with stitches, there are brushes available on the market. Another cleaning product to consider having in your leather care collection is a nubuck cleaning cloth. They have an astonishing ability to clean and restore leather to its original look.
Conditioning
Leather conditioners are meant for occasional use. They contain fats and/or oils that help lubricate leather and replenish the suppleness. Look for a product that will penetrate the strong fibers in leather, but beware of any that include petroleum or mineral oils. While petroleum by-products won"t damage your leather immediately, they do over a period of time.
Polishing
Polishing is done for special occasions when you want a more glossy finish on your leather. There are a couple things to be wary of when purchasing a polishing agent. Some products contain coloring factors that will brush off on things you come in contact with. Some products also have a tendency to clog the pores in leather or dry leather out. Just as with cleaning, be sure to test out the product on a small area and when ready, buff to a shine.
Protection
Moisture barriers are extremely crucial in preventing rain or other liquid hazards from damaging leather. Stiffness and spouting will happen if leather isn"t protected beforehand. There is a drawback in protecting leather with a moisture barrier product. They tend to fill in the pores with a greasiness that makes cleaning, conditioning, and polishing difficult, but it"s a necessary process to ensure leather isn"t destroyed. Periodically apply a moisture barrier and allow it time to penetrate and dry before using your leather item.
Wet Leather
An important key to keeping leather in top-notch condition is to treat wet leather before it has a chance to dry. Remove any dirt, mud, or other stains with a cleaning agent, then condition while the pores are still fully responsive. It is critical to remember that leather should be dried away from heat. If the leather in question is a garment, it"s a good idea to stuff the garment to retain shape.